MP Visit
MP Visit
18 October 2018 (by admin)
Kevin Hollinrake Visits Site of New School in Sowerby, Thirsk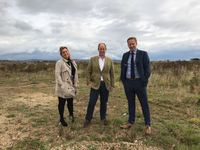 Kevin Hollinrake, Member of Parliament for Thirsk and Malton has met with Nigel Ashley, CEO of Elevate Multi Academy Trust and Nikkie Beniams, Executive Headteacher at the site of Keeble Gateway Academy, a free school serving the residents of Sowerby Gateway to the South West of Thirsk.

Pledging his support for the creation of Keeble Gateway Academy, Kevin said "Like many local people and parents, I am delighted that Thirsk and Sowerby will soon have a brand new school run by one of the region's most effective academy trusts. It is absolutely right that parents and students have choice and this will help to raise standards right across the area. "

Opening in September 2019, the Primary School will embody the aspirational ethos of Elevate Multi Academy Trust and be part of a schools' centre of excellence, sharing and fostering best practice across the Trust. Applications are now being welcomed for Nursery and Reception. Please visit www.keeblegatewayacademy.org, or email headteacher@keeblegatewayacademy.org for more information.